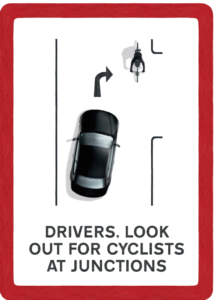 The number of people choosing to cycle for fun, fitness or to get to work has increased by more than a quarter in the last twenty years. An incredible 3.2 billion miles are cycled on our roads every year.
The aim of THINK!'s latest campaign is to raise cyclists' awareness of the dangers of lorries turning left – the area where a third of collisions between cyclists and lorries happen.
We want to remind cyclists to 'hang back' at junctions to avoid getting caught between a lorry and left hand turn.
THINK! has also teamed up with the Freight Transport Association to remind HGV drivers to look out for cyclists.
The facts
The number of cyclists killed on our roads has fallen 30% since 2006.
106 cyclists were killed and 3,397 seriously injured on our roads in 2016.
90 cyclists were killed in accidents involving HGVs between 2013 and 2017 (17% of all pedal cycle fatalities).
Read more